Care Cost Benchmarks 11ed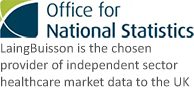 LaingBuisson's exclusive calculator tool for residential care provision. Eleventh edition. Published 18 May 2020.
The new edition of LaingBuisson's Care Cost Benchmark toolkit provides vital guidance to providers and commissioners of care home services in understanding the real costs behind the provision of care. First developed almost 20 years ago, Care Cost Benchmarks has become the industry standard tool for calculating care costs for anyone interested in this important sector.
Care Cost Benchmarks is based on extensive survey work and is a tried and tested model. The conceptual framework is essentially the same as that adopted by the Competition and Markets Authority in its September 2017 financial analysis working paper as part of its care homes market study.
This year's study shows that residential care homes for older people in England currently need to charge fees of £696 to £849 per week to generate a sustainable return. Nursing care costs between £969 and £1,075 per week. In contrast, English councils paid on average only £596 for residential care and £764 for nursing care, indicating a continued shortfall in care funding and that care homes remain dependent on premium fess from private payers to generate sustainable levels of income.
There are also additional costs now to consider in the light of Coronavirus – namely the costs of PPE. While it is too early to offer a firm estimate of those costs in this tool, the new edition acknowledges this and reminds users to tailor what they enter based on their local knowledge. We anticipate that the impact of PPE on costs will be substantial.
Downloads
By clicking on Buy Now you are acknowledging that you have read and understood the Data Licence Agreement and agree to the terms and conditions.
What the toolkit delivers
A fully interactive spreadsheet which empowers users to complete and alter parameters enabling users to see 2019/20 care costs
Projected 2020/21 care costs care home costs split into:

Care
Accommodation
Ancillary services
Operators profit

A comprehensive explanatory guide
Includes
Projections for next financial year
'Single click' selection of any administrative area including:
Country (England or Wales)
Region
CASSR
District council
Who is the toolkit for?
Council and CCG commissioners and finance staff
Care home groups
National and local care associations
Advocacy groups
Social policy experts
Politicians, civil servants and policymakers involved with long-term care funding
Legal teams working on care funding Judicial Reviews
Investors and developers
What You Get
Digital Package – Microsoft Excel calculator tool + Digital PDF Explanatory Guide