CareSearch – Care Homes and Care Home Groups Subscription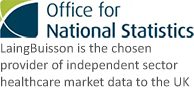 CareSearch gives real time access to all CQC data, other public domain data and additional LaingBuisson information, cross checked and augmented by our in-house data analysts. Use CareSearch for all your marketing, planning and strategy projects.
Accurate information – Data is linked in real time to the CQC and other public databases as well as LaingBuisson's database so it is always the most up to date and accurate. LaingBuisson has a team of data analysts that constantly cleanse the data
Flexible searches – Users can search on 90+ fields with sophisticated and/or/not/filtering functionality. For example you can search for individual facilities by location, distance from a postcode centroid, group ownership, CQC quality rating, number of beds, registration type, first registration date, purpose built, provider type (profit, not for profit, statutory) and many others
Exportable data – Customised searches can be saved and refreshed at any time and the data can be exported as a CSV, JSON, XML and HTML files so the information can be imported into Excel or your own databases
The latest enhanced version of CareSearch has additional functionality including:
CQC ratings history
Manager history
Nominated individual included in home details
More Export fields including CQC Provider ID; Latitude and Longitude; Group description
By clicking on Buy Now you are acknowledging that you have read and understood the Data Licence Agreement and agree to the terms and conditions.
Take a trial
Our Account Managers are happy to give an online demonstration of CareSearch.
Please call on +44 (0)20 7841 0045 or email [email protected] for further information.
NB: Following online purchase of CareSearch you will be contacted by an Account Manager who will guide you through set up of your portal access and give a brief walkthrough of the system.