Diagnostics UK Market Report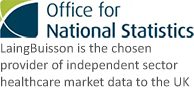 What the report covers
Market
Politics and regulation
Payors
Providers
Key suppliers to the market
Investors
Market potential
Appendices
Glossary
Who is the report for

Hospital & Clinic C-Suite Professionals
Specialist Diagnostics Providers
Suppliers of Imaging and Pathology Equipment
Private Medical Insurance Groups
Clinical Commissioning Groups
NHS Foundation Trusts
Professional and Trade Associations
Investors
Banks
Private Equity
Central and Local Government
Think Tanks
Lawyers
Management Consultants
What You Get
Print package – single-user Printed Hard Copy
Digital package – multi-user Digital PDF and Data in Excel files + Printed Hard Copy
Want to know more? Our sales team can help.
Call: 020 7841 0045
Email: [email protected]
LaingBuisson's comprehensive study of the UK's Diagnostics market, 1st edition. Published 11th May 2020 (261 pages).
Please contact your account manager if you are interested in our special offer for NHS and charities of £499 for a printed copy and £1,497 for a digital copy.
"Diagnostics are fundamental to the clinician's understanding of their patient's condition and the best treatment for them. The years between 2012 and 2018 have seen an 8-9% growth in the number of MRI and CT scans undertaken, while the number of pathology tests is growing at a rate of just over 2% per year. Given the insight that can be gained from testing and the benefits that it offers clinicians and patients alike, there is no reason to believe that when we emerge from the current crisis that this growth will not continue. While we predict continued downward pressure in pricing, demographic changes and pressure to catch up with testing rates in other counties point to sustained volume growth together with growth in the value of the market, albeit at a slower pace.
"While the trend has been away from outsourcing diagnostics from the NHS in recent years, the pressure to grow may well create further opportunities. Private imaging companies currently account for around 15% of the addressable market and diagnostics companies remain attractive to investors, reassured by the fact that payments are largely underwritten by public money. As we return to normal after Coronavirus, there is no reason to think that the UK diagnostics market will not return in time to the growth trajectory on which it was set prior to March 2020."
                                                                                                                                                Hugh Risebrow, report author
The first edition of LaingBuisson's Diagnostics UK Market Report offers a picture of a high value and growing market which makes it highly attractive to investors. While the current crisis will undoubtedly change the market's focus for the short-term, understanding its underlying dynamics and potential makes this report vital reading for investors, advisors, suppliers, commissioners and providers to the UK diagnostics market.