Healthcare Markets and Healthcare Markets international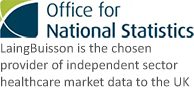 10 issues per year plus full access to the online news archive.
Healthcare Markets is the only monthly independent healthcare newsletter which concentrates solely on bringing you news of developments and trends in the field of independent acute, mental health and primary care.
Healthcare Markets international is the only publication to look at the industry globally and captures the cross-border dynamics of the acute and primary healthcare services markets.
Package includes
10 print editions of Healthcare Markets
10 digital editions of Healthcare Markets and Healthcare Markets international
Full access to the online news archive