Primary Care & Out Of Hospital Services Market Report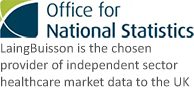 What You Get
Digital report in the form of a fully-searchable PDF
Accompanying Microsoft Excel data
Report Format

Executive Summary & Highlights
Unifying themes and key conclusions
Scope & market scale
Key market components
Government policy and funding overview
Future prospects
Market Scope & Scale
Out-of-hours and urgent care
Investment in primary care premises
Privately funded primary medical care
Occupational health
Community health services
Prison healthcare
Out of hospital services
Home healthcare
Telehealth and telecare
Disease managements
End of life care
Sub acute and complex needs care and rehabilitation
Whole pathway commissioning and provision
Government Policy & Funding Overview
The NHS funding outlook and the Nicholson (productivity) challenge
The Health and Social Care Bill, the NHS reforms and the independent sector's role
Any qualified provider, and traditional tendering
Spending – NHS and private
Scotland, Wales and Northern Ireland
Primary Medical Care
Regulation of primary medical care
Publicly funded general practice & GP contracts
Government initiatives to outsource primary medical care
Winners, losers, key players & lessons from outsourcing initiatives
Current challenges, opportunities and future scenarios
Occupational Health
Legislation, regulation and government policy
Market size, drivers and trends
Demand 'push' factors; demand 'pull' factors
Key players
Business failures in the occupational health sector
Community Health & Out of Hospital Services
NHS Community health services

Community health services market size and structure
Market structure and trends
Pace of penetration by independent Sector providers

Prison healthcare

Market size & commissioning

Out of hospital services

Drivers of migration of healthcare services from hospital to community settings
Alternative routes to integrated healthcare

Home healthcare

Funding of home healthcare
Market size and trends for home healthcare

Home healthcare
Financial Appendix
Detailed analysis of the statutory accounts of major providers
Want to know more? Our sales team can help.
Call: 020 7841 0045
Email: [email protected]
The second edition of our report on a wide range of services which have important interconnections and synergies for independent sector providers looking to build a portfolio of activities which work as part of the general direction towards integration and community-based provision. Second edition. Published 20 January 2015. (310pp) NB Digital Files Only
"Integration is high on the NHS agenda. This report looks at platforms upon which integration might be built in the future."
William Laing  – Report author
The second edition of this exclusive LaingBuisson report covers an apparently disparate range of healthcare markets: General practice and other primary medical care; Community health services; Out of hospital secondary care services (incorporating healthcare at home, teleheath and disease management); and Occupational health services.
Our wide-spanning analysis, however, identifies a number of important interconnections and potential synergies for independent sector providers which will support those operators already building a portfolio of activities across several of these markets as well as pointing interested operators in the right direction.
Exclusive LaingBuisson + Authoritative Commentary & Analysis On
NHS General Practice / Private General Practice / Private Medical Care
Out of Hours GP & Urgent Care Services
Occupational Health & Community Health Services
Home Healthcare
Prison Healthcare
Out of Hospital Services
Telecare & Telehealth
Disease Management
End of Life care
Sub-Acute Care
Exclusive LaingBuisson Tables & Figures Include:
Not-for-profit providers of out-of-hours and urgent care services
Share of NHS GP premises market controlled by Primary
Health Properties, Assura Group and Octopus Healthcare (incorporating MedicX)
Private GP consultations as % of all GP consultations, Great Britain 1990 – 2009
Breakdown of PCT expenditure on primary, community and other secondary health services and independent sector share of expenditure, England 2009/10
Expenditure on medical and psychiatric care for prisoners in the publicly run prisons in England 2003-04 to 2010-12
HS expenditure by broad cost centre, England 2012-13
Breakdown of NHS GP practices by type of contract, England 2013
Trends in GP practices operated by limited companies, England 2009-2013
Trends in the profile of NHS GPs by gender and partner/salaried status England
Expenditure on NHS general practice in England, Wales, Scotland and Northern Ireland 2003-2013 (including GP dispensing costs)
Expenditure on NHS general practice, gross value and as value a percentage of all NHS expenditure, England 2003/04 – 2012/13
Patient reported GP and nurse consultations in general practice, England 2009-14
Distribution of GP practice sizes, England 2004-13
NHS expenditure on out-of-hours services England 2004/05 – 2012/13
Figure 5.10 Profitability of out-of-hours providers, EBITDA as a percentage of revenue
NHS GP premises costs (including rent allowance for owned premises) UK 2004/05 – 2012/13
Distribution of GP premises by type (new purpose-built or not) and penetration by three major specialist property investment groups
Penetration of NHS general practice premises market in UK by 3 major specialist property investment groups: contracted annual rent (2014) as a share of NHS GP premises costs (2012/13)
Penetration of NHS general practice premises market in UK by 3 major specialist property investment groups plus NHS Property Services Ltd : asset value (2014) as a share of estimated
NHS GP premises asset value (2012/13)
Private GP market size 2014 and share of private and public markets combined
Profitablity of occupational health service providers, EBITDA as a percentage of revenue
Expected market share of NHS commissioned community health services in England by provider type by the end of 2011
Moving annual total of non-elective (emergency) admissions to NHS hospitals in England
Addressable market size (numbers of users) for telehealth and disease management services, UK 2011
Plus many more…
In partnership with