Private Acute Healthcare Central London Market Report 7ed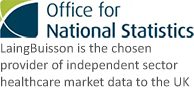 What the report covers
Market overview
Sources of funding
Independent providers
NHS Private patient units
Outer London
Appendices

Glossary
Regulators
Trade associations
Provider profiles
Financial appendix
Who is the report for
Hospital & Clinic C-suite Professionals
Specialist Acute Medical Care Providers
Private Medical Insurance Groups
Clinical Commissioning Groups
NHS Foundation Trusts
Investors
Banks
Private Equity
Architects
Property Developers & Consultants
Central & Local Government
Think Tanks
Lawyers
Management Consultants
What You Get
Print package – single-user Printed Hard Copy
Digital package – Multi-user Digital PDF and Data in Excel files + Printed Hard Copy
Want to know more? Our sales team can help.
Call: 020 7841 0045
Email: [email protected]
Does strong 2019 growth presage a resilient post-Covid bounce back for the Central London private acute hospital market?
LaingBuisson's comprehensive study into Central London's private acute market. Seventh edition. Published 22nd March 2021 (355pp)
The seventh edition of LaingBuisson's trusted Private Acute Healthcare Central London market report has been published. Offering a full picture of the state of the market immediately before the Covid-19 pandemic and forecasting the impact of the pandemic and how the sector will come out of it, the report is vital reading to anyone with an interest in this distinctive healthcare market.  This includes investors, advisors, suppliers and hospital/clinic providers.
The report shows how in calendar 2019 the central London private hospital market had its strongest year in revenue growth terms since 2014. International and embassy clients were returning. Central London hospitals were also benefiting from an increase in private medical insurance spend and a growth in oncology revenues.
The buoyant growth enjoyed in 2019, however, stopped in March 2020, as PPUs gave up their private pay beds and the majority of private hospitals took NHS contracts to support the pandemic response. After a hiatus in spring 2020, there was a surge in demand, which central London independent hospitals were able to take advantage of, meaning that revenues for 2020 are not expected to have fallen as much as may have been anticipated in comparison with 2019.
With 2021 starting quietly, the UK being back in lockdown and people nervous about going to hospital, it is hard to predict how quickly the independent hospital market in central London will bounce back as we emerge from the crisis. While demand from home patients may be strong, international patient numbers are likely to be slow to recover. Are the foundations laid in 2019 robust enough to support a fast return to growth?
"What 2021 will hold for the Central London independent hospital sector is anyone's guess. While pent up demand led to a noted rise in the number of patients through their doors in the later months of 2020, the third lockdown has made patients nervous and the first half of 2021 is expected to be quiet as a result.
"Nevertheless, central London private hospitals should continue to benefit from the restrictions being placed on NHS PPUs as well as lack of private capacity in hospitals outside of London, not to mention the ongoing backlog of private patients and the potential for new self-pay patients.
"At the same time, international patient numbers are expected to be slow to recover, partly owing to travel restrictions and partly because of the home country's own domestic economic and pandemic issues. Furthermore, the potential impact of Brexit has been obscured in some measure by the pandemic. Whether this emerges as an issue, either through a loss of those jobs, which offer health insurance as a perk, to other counties, or through difficulties in staff recruitment, remains to be seen."
Report author, Ted Townsend