Private Acute Healthcare Central London Report 8th Edition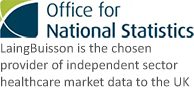 What the report includes

Market Overview
Sources of Funding
Independent Providers
NHS Private Patient Units
Outer London
Appendices

Glossary
Regulators
Trade associations
Provider profiles
Financial appendix
Who is the report for

Hospital & Clinic C-Suite Professionals
Specialist Acute Medical Care Providers
Private Medical Insurance Groups
Clinical Commissioning Groups
NHS Foundation Trusts
Investors
Banks
Private Equity
Architects
Property Developers & Consultants
Central & Local Government
Think Tanks
Lawyers
Management Consultants
What You Get
Print package – Single-user Printed Hard Copy
Digital package – Multi-user Digital PDF and Data in Excel + Printed Hard Copy
Want to know more? Our sales team can help.
Call: 020 7841 0045
Email: [email protected]
Has London become an overcrowded hospital market?
LaingBuisson's comprehensive study into the UK's Private healthcare market in Central London. Eighth edition.
With major new entrants from overseas, including Germany's Schoen Clinic and the United States based Cleveland Clinic, as well as Nuffield Health's new London hospital at St. Bartholomew's, hospital operators are putting large bets on the growth and prosperity of the central London healthcare market.
But will there be sufficient growth to give them the return they expect?
LaingBuisson's new Private Acute Healthcare Central London report poses the question, what's happening to private acute demand in the capital?
Central London's independent hospitals have seen a resurgence in demand since Covid has faded. But pent-up demand has not flowed into the market as rapidly as optimists in the sector had hoped, with Private Medical Insurance (PMI) and embassy patients still below pre-Covid levels even though self-pay has boomed.
NHS PPUs, also covered in this report, haven't quite returned to pre-covid levels, as they are still trying to regain access to the facilities needed to treat private patients.
Projections for the private acute healthcare central London market
According to the report, released in July 2022, revenue for those central London hospitals, clinics and diagnostic centres which accept private patients is projected to reach £1.9 billion in calendar 2022, up 6.4% on 2021.
Against a background of future unpredictability, the report offers a wealth of hard data on the Central London private healthcare market including:
• Market size, segmented by payor groups
• Recent growth, segmented
• Market shares and industry structure and specialisms
• Capacity (e.g. inpatient beds, operating theatres, ITU beds, diagnostics, etc.)
• Operating ratios (e.g. revenue per bed, revenue per theatre, etc.)
• Staffing numbers and costs
• Profitability
• Financial appendix with details of filed accounts for all hospital and clinic operators
• Future outlook and market potential
Comments from the report author
"'Whether or not the continued rise of self-pay incomes in independent hospitals will continue to rise is uncertain. Many independent hospitals in recent years have expanded capacity through borrowings, and these hospitals will be hoping to maintain the increase in revenue in order to ensure that they can fulfil their financial obligations. It is quite possible there will be some consolidation in the market before too long.'"
Published  11 July 2022
Supported by