Private Acute Healthcare Central London Report 9ed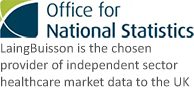 What the report includes

Market Overview
Sources of Funding
Independent Providers
NHS Private Patient Units
Outer London
Appendices

Glossary
Regulators
Trade associations
Provider profiles
Financial appendix
Who is the report for

Hospital & Clinic C-Suite Professionals
Specialist Acute Medical Care Providers
Private Medical Insurance Groups
Clinical Commissioning Groups
NHS Foundation Trusts
Investors
Banks
Private Equity
Architects
Property Developers & Consultants
Central & Local Government
Think Tanks
Lawyers
Management Consultants
What You Get
Print package – single-user Printed Hard Copy
Digital package – Multi-user Digital PDF and Data in Excel + Printed Hard Copy
Want to know more? Our sales team can help.
Call: 020 7841 0045
Email: [email protected]
How are independent hospitals in London faring post-Covid?
LaingBuisson's comprehensive study into the UK's private healthcare market in Central London. Ninth edition.
Despite the challenges posed by the pandemic, the Private Acute Healthcare Central London Market Report, Sponsored by Reputation, presents a market that has bounced back to pre-pandemic levels. This is thanks in part to an increase in self-pay patients. With strong underlying growth predicted for 2022 and beyond, the report raises the question of whether the independent sector is ready to rise to the challenge or will rising costs hinder future growth?
With fierce competition among providers, including new entrants such as Cleveland Clinic London, the report offers valuable insights combined with extensive data analysis into the future of the sector. Findings of the report include:
Analysis of the private acute healthcare Central London market after the peak of the Covid-19 pandemic and how the market has returned to pre-pandemic levels.
The increase in the number of self-pay patients, in part due to increased NHS waiting lists.
Impact of the Covid pandemic on NHS Private Patient Units (PPUs) and their slower recovery compared to the rest of the independent sector.
Highly competitive nature of the market as overall inpatient bed capacity increased by over 10%
The report raises the question of whether the independent sector is ready to shine or will pressures of rising costs hinder future growth?
Comments from report author
"'While revenue growth has returned to the market, after a long period of drift even pre-Covid, the big issue continues to be a fight for market share, with increasing costs of employing or sharing revenue with consultants, not to mention staffing constraints, wage pressures and cost inflation, continuing to impact on the bottom line. And all of this is occurring at a time when profit margins have already been under pressure for some time. It may be that there will be some consolidation in the not-too-distant future.
"PPU growth is not guaranteed, with some hospitals vulnerable to the loss of a few consultants or the transfer of specialities to other hospitals, as well as limited capacity (e.g., access to ITU beds or theatres) or organisational cultures that are against doing private work. At least some PPU hospitals are starting to operate more commercially outside their hospital facility."
Published: 10th May 2023 (434pp)
Supported by