Private Acute Healthcare UK Market Report 7ed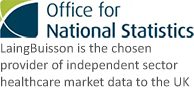 What the report covers
UK Hospitals & Clinics Overview
Funding
Market Structure
PMI
NHS Purchasing
Self-pay
NHS Private Patients
Other Market Components
Activity
Specialists
Political Environment & the NHS
Regulation
Futures
Financial Appendix
Who is the report for
Hospital & Clinic C-suite Professionals
Specialist Acute Medical Care Providers
Private Medical Insurance Groups
Clinical Commissioning Groups
NHS Foundation Trusts
Investors
Banks
Private Equity
Architects
Property Developers & Consultants
Central & Local Government
Think Tanks
Lawyers
Management Consultants
What You Get
Print package – single-user Printed Hard Copy
Digital package – Multi-user Digital PDF and Data in Excel files + Printed Hard Copy
Want to know more? Our sales team can help.
Call: 020 7841 0045
Email: [email protected]
UK private acute healthcare sector shows green shoots of recovery following Covid-19
LaingBuisson's comprehensive study into the UK's private acute market. Seventh edition. Published 1st November 2021. (294pp)
"2020 was an unprecedented year for independent healthcare, and some impacts from the coronavirus pandemic are likely to be long-lasting within the sector. While the preliminary estimates show a decline in the market during that period, NHS payments to cover costs while independent hospitals provided much needed additional capacity during the pandemic supported annual revenues. There has also clearly been a recovery in demand following the reopening of the economy in late 2020 and again in 2021.
"However, less positive is the downward pressure on profitability for providers, and this has been experienced by most operators. Although to date much of this can be put down to Covid-related factors, uncertainty around the future patient mix and funding tariffs make future profitability trends hard to predict. While the recovery in economic growth expected in 2021/22, coupled with household spending savings during the pandemic favoured increased spending on healthcare, the recent slowdown, the rise in inflation and supply shocks, have created some caution around future prosperity."
Phillip Blackburn, report author
The seventh edition of LaingBuisson's Private Acute Healthcare UK Market Report is vital reading for anyone involved in this highly competitive sector of the UK health economy, be they providers, investors or advisors to the sector.
The first edition to be published since the start of the Covid-19 pandemic, the new report shows the position of the market immediately before the pandemic, the impact of the pandemic, and the private healthcare sector's recovery as the economy has started to reopen.
This market, estimated to be worth £6.17 billion in 2019, contracted by around 30% during the pandemic, as independent hospitals made beds, theatres and clinicians available to the NHS 'at cost' and elective surgery all but stopped. The overseas market disappeared as travel restrictions were imposed.
However, the market revived strongly in late 2020 and then again following the 2021 lockdown. The number of people treated on private medical insurance has increased, as has the number of NHS-funded admissions as NHS managers have sought to reduce waiting lists. There has also been growing interest in self-pay owing to long NHS waiting lists for diagnostic and elective procedures. Benefitting from London's reputation for medical excellence, the UK has also attracted patients from overseas as travel restrictions have eased.
Nevertheless, future profitability is hard to predict. Unknowns include the future patient mix and funding tariffs, together with the current economic uncertainties created by economic slowdown, inflation rises, supply shocks and staffing challenges. This important report provides a crucial update on the current position of the market and its key emerging trends.
Supported by