Private Acute Healthcare UK Market Report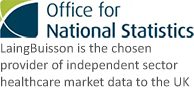 What the report covers
UK Hospitals & Clinics Overview
Funding
Market Structure
PMI
NHS Purchasing
Self-pay
NHS Private Patients
Other Market Components
Activity
Specialists
Political Environment & the NHS
Regulation
Futures
Financial Appendix
Who is the report for
Hospital & Clinic C-suite Professionals
Specialist Acute Medical Care Providers
Private Medical Insurance Groups
Clinical Commissioning Groups
NHS Foundation Trusts
Investors
Banks
Private Equity
Architects
Property Developers & Consultants
Central & Local Government
Think Tanks
Lawyers
Management Consultants
What You Get
Print package – single-user Printed Hard Copy
Digital package – Multi-user Digital PDF and Data in Excel files + Printed Hard Copy
Want to know more? Our sales team can help.
Call: 020 7841 0045
Email: [email protected]
LaingBuisson's Private Acute Healthcare UK Market Report. 6th Edition
LaingBuisson's comprehensive study into the UK's private acute market. Sixth edition. Published 18th November 2019. (267pp)
"The independent healthcare market has clearly faced challenges, as growth in some traditional revenue streams stalled recently. This has prompted some busy strategising by hospital and clinic providers to best position themselves to meet future demand trends. Generally, providers recognise the need to develop their service offering to attract demand and meet changing healthcare needs of the population, including diversification into new areas for some, targeting new customer segments (both here and abroad), and capitalising on healthy interest in what UK private healthcare can offer. There have been more aligned relationships between providers and funders with a shared objective to deliver high quality healthcare services but a crucial need to do so more efficiently to offer affordable private healthcare, both insurance and self-pay."
"LaingBuisson currently forecasts nominal revenue growth of around 2-2.5% in the next three years for UK private acute medical care (before taking account of economy inflation), which remains modest. With new capacity coming on stream during this time, most focused within central London, independent sector hospitals and clinics will be challenged to stimulate new demand to sustain overall market supply – whether private individuals, corporates, insurers, overseas sponsors or the NHS – and compete effectively and efficiently on price and quality."
Phillip Blackburn, report author
The sixth edition of LaingBuisson's Private Acute Healthcare UK Market Report is vital reading for anyone involved in this highly competitive sector of the UK health economy, be they providers, investors or advisors to the sector.
Supported by