Private Healthcare Self-Pay UK Market Report 4ed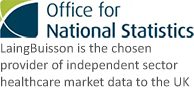 What the report covers
Market
Market research and analysis
Market insight from leading providers
Price comparisons
Major provider scheme and finance options
The patient perspective
The future of self-pay
Appendices
Glossary
Regulators
Trade Associations
Major independent sector healthcare providers
Private providers details pricing and comparisons
Who is the report for
Hospital & Clinic C-suite Professionals
Specialist Acute Medical Care Providers
Private Medical Insurance Groups
Clinical Commissioning Groups
NHS Foundation Trusts
Investors
Banks
Private Equity
Central & Local Government
Think Tanks
Lawyers
Management Consultants
Want to know more? Our sales team can help.
Call: 020 7841 0045
Email: [email protected]
Will consumer confidence support a private sector self-pay healthcare resurgence?
The fourth edition of LaingBuisson's respected Private Healthcare Self-Pay UK Market Report (387pp) delivers industry-leading data and analysis of industry growth trends and the overall competitive landscape. For these reasons, the report is essential reading for anyone with an interest in private outpatient and inpatient healthcare. This includes UK private healthcare providers, suppliers, advisors, investors and insurers.
Following healthy growth which bucked the economic trends of 2020-21, the self-pay market continued its trajectory of market-beating growth throughout 2021-22. Key underlying drivers for this have been NHS waiting lists and NHS demand management. Statistics are now showing people increasingly turning to private healthcare providers to access care. This has been supported by growing awareness of private GPs, consultants and diagnostic services. Furthermore, patients can access services via technology platforms, bringing people into contact with private healthcare for the first time.
Reasons for self-pay market growth
Consumer confidence is key to this market growth being sustained through 2022-23. The report states that the direction of travel is not yet clear. Surveys show that factors such as the increased cost of living and growing spending choices may dampen this growth. The private health sector may also struggle to meet demand owing to staffing and resourcing challenges. Nevertheless, confidence that the market will continue to achieve double-digit growth in the next three years remains high.
The impact of Covid-19
The report also has a focus on the state of the market following Covid-19. There is clearly a direct correlation between lengthening NHS waiting lists and people's appetite to pay for treatment. No-one likes to be in unnecessary pain and the push factors may be enough to sustain this growth.
Comments from the report author
"While there is a continued sense of optimism about the future of the self-pay market, we are not clear yet about the scale of growth going through 2022 and 2023, though early indications from some large providers are very positive. Consumer confidence is key to the direction of travel of this market. While the inability to spend money on holidays and leisure activities in 2020/21 meant that people had money in their pockets which they chose to spend on health and wellbeing, current inflationary pressures, the wider geo-political situation and the opening up of society following the pandemic may serve to stifle growth given this kind of healthcare spending is generally discretionary.
"Nevertheless, there does appear to be a direct correlation between the well-publicised and lengthening NHS waiting lists and waiting times for elective procedures and diagnostics and enquiries around self-pay. Since those waiting lists are not falling, we would expect demand to be sustained as people seek to access treatment. The question for the private healthcare sector is whether it has the staff and resources to meet that demand."
Published: 12 April 2022
Supported by
Expert Insight
With any purchase of the report, there is the option to book a one-hour expert Q&A consultation with the author at the special price of £350 + VAT. Find out more.