Private Healthcare Self-Pay UK Market Report 5ed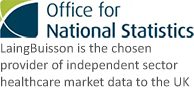 What the report covers
Market
Market research and analysis
Market insight from leading providers
Price comparisons
Major provider scheme and finance options
The patient perspective
The future of self-pay
Appendices
Glossary
Regulators
Trade Associations
Major independent sector healthcare providers
Private providers details pricing and comparisons
Who is the report for
Hospital & Clinic C-suite Professionals
Specialist Acute Medical Care Providers
Private Medical Insurance Groups
Clinical Commissioning Groups
NHS Foundation Trusts
Investors
Banks
Private Equity
Central & Local Government
Think Tanks
Lawyers
Management Consultants
What You Get
Print package – Single-user Printed Hard Copy
Digital package – Multi-user Digital PDF and Data in Excel + Printed Hard Copy
Want to know more? Our sales team can help.
Call: 020 7841 0045
Email: [email protected]
Can public interest in self-pay translate into actual demand?
The fifth edition of LaingBuisson's respected Private Healthcare Self-Pay UK Market Report is essential reading for anyone with an interest in private outpatient and inpatient healthcare. This includes service providers, suppliers, advisors, investors and insurers operating in this growing market.
The self-pay market has shown market-beating growth throughout 2021 following the seismic impact of the Covid-19 pandemic. Promising indications for future growth also exist. NHS waiting lists and NHS demand management have been the key underlying driver for this growth. The likes of this haven't been experienced in a generation and reached a figure of 7.2 million people in December 2022. This has been the primary reason for people increasingly turning to the private sector to access care.
In addition, some NHS Trusts are beginning to provide wider availability of information and procedure prices in an attempt to recover NHS private patient revenues. However, this varies depending on geography, the existence of dedicated private patient beds and local pressures. This begs the question: Are NHS Private Patient Units (PPUs) missing this opportunity to compete within the independent sector?
Our report includes future projections for the subsequent years and explores the influential factors. Whilst the market has shown increasing volumes of growth for patients paying to receive private care, factors such as staffing and resourcing make estimates more difficult. However, all indicators are that the self-pay market will continue to grow but providers must be prepared to effectively target varied patient needs to convert this interest into demand.
Comments from the report author
"NHS waits, increasing media coverage around patients choosing private options and treatment restrictions have driven wider interest in private healthcare. As a result, the independent sector has seen higher volumes of patients willing to pay privately year-on-year. Forward projections are always difficult to make, but based on the recent growth trajectory, all indicators are that self-pay growth will continue. 
"There are signs of some recovery in NHS private patient revenues, but these are very variable and may depend on geography, the existence of dedicated private patient beds and local pressures. We have noted that a number of NHS Trusts have taken the opportunity to re-evaluate their private patient offer, particularly for self-pay patients. This is reflected in much wider availability of information and prices for procedures, including cosmetic surgery, within NHS private patient services. Therefore, it is clear that some Trusts are very well-placed to optimise the opportunity to recover private patient income in the future. Many Trusts report optimism about the future prospects for their private activity growth overall.
"Long term, there are favourable signals for growth in private spending on acute medical care in the UK. This is because individuals, companies, and overseas customers have a strong interest in the private healthcare product and their capabilities across the healthcare spectrum. However, the strength of growth is likely to depend on the ability of providers to convert interest into realised demand. In addition, they need to effectively target varied customer needs."
Published: 25 May 2023 (388pp)
Supported by
Expert Insight
With any purchase of the report, there is the option to book a one-hour expert Q&A consultation with the author at the special price of £350 + VAT. Find out more.