UK Healthcare Market Review 34ed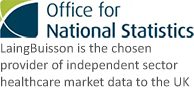 Who the Review is for
C-suite professionals from right across the independent healthcare and social care environment
CCG and local authority commissioners
Directors of Adult Social Services
Directors of Children's Services
NHS Foundation Trusts
Independent hospitals/hospital groups
Care home providers/care home provider groups
Banks and other financial institutions
Local and national government
Healthcare and social care trade bodies
Policy writers
Think tanks
What the Review covers
Private Acute Medical Care
Health Cover
Care Homes for Older People
Adult Specialist Care
Homecare and Supported Living
Mental Health Hospitals
Children's Residential Care
Foster Care
Special Education
Dentistry
Primary Care
Community Health Services
Occupational Health
Healthcare Workforce and Recruitment
What You Get
Print package – Single-user Printed Hard Copy
Digital package – Multi-user Digital PDF and Microsoft Excel files + Printed Hard Copy
Want to know more? Our sales team can help.
Call: 020 7841 0045
Email: [email protected]
LaingBuisson launches the 34th edition of its respected UK Healthcare Market Review
The 34th edition of LaingBuisson's UK Healthcare Market Review, which is sponsored by Avison Young, offers a comprehensive overview of the latest data available on the key sectors of the UK independent healthcare and social care sectors. Written and edited in winter 2022, it offers a reflection on how the independent healthcare and social care sectors have emerged from the Covid-19 crisis.
As the chosen provider of independent healthcare market data to the UK Government's Office for National Statistics, LaingBuisson contributes market data that is in turn submitted to the OECD, WHO and Eurostat and combined with their international datasets to benchmark UK spending against other nations.
The information included in the Review includes current market value and capacity, recent trends, market concentration, leading players, funding sources, and key issues for the future. The report provides a clear and concise overview of the role of private payers and independent sector providers, alongside the public sector, in the funding and delivery of UK health and care services.
William Laing, Executive Chairman of LaingBuisson, said:
"We are proud to launch the 34th edition of our UK Healthcare Market Review and that in the three decades that this report has been available, it has established itself as a 'go-to' document to inform providers, advisers and decision-makers in the UK healthcare market. It, furthermore, offers insight into the far wider work of LaingBuisson, the richness of the data we gather, and the depth of the research reflected in the individual market reports, which in turn inform the UK Healthcare Market Review and also the data that we supply to the Office for National Statistics. The Review also looks at the level of private equity interest in the market and is a valuable oversight document for anyone interested in UK health and social care."
14 February 2023 (pages 177)
In partnership with