Digital Health UK Market Report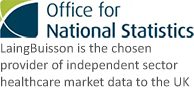 What the report covers

Market
Politics and regulation
Payors
Major providers
Investors
Market potential
Covid-19
Who is the report for
CEOs and Boards of NHS Trusts and independent healthcare providers
CIOs/CTOs of NHS Trusts and independent healthcare providers
Procurement leads in NHS Trusts
Regulators
Large IT suppliers
Healthcare IT start-ups
Banks and investors
Management consultants
Business advisors
Central government
Think tanks
Policy writers
What You Get
Print package – Single-user Printed Book
Digital package – Multi-user Digital PDF and Data in Excel + Printed Book
Want to know more? Our sales team can help.
Call: 020 7841 0045
Email: [email protected]
Is IT investment sufficient to sustain a long-term digital health revolution beyond Covid-19?
LaingBuisson has published the second edition of its Digital Health UK Market Report. Containing new and rebased data, the report provides the most accurate picture of the market available and gives full consideration to the impact that the pandemic has had on the adoption (or not) of different technologies, cutting through the myth to shine a light on the reality.
"Covid-19 has undoubtedly accelerated digital transformation in healthcare and technology is being used more than ever. This offers the opportunity for healthcare providers to transform their services, not only in terms of efficiency but also offering patients choice. This in turn creates opportunities for investors and suppliers.  "While take up of new technology during the pandemic is beyond the expectations we would have had for 2020 this time last year, there still remains the challenge of using and scaling the technologies that exist and ensuring their penetration across all areas of the market, let alone of introducing further technology. For all the increased interest in the benefits technology can offer healthcare, investment in NHS IT remains insufficient and take up of technology remains patchy in some sectors of the market, notably social care. While these shortcomings have been highlighted by the pandemic and should provide impetus for change, whether there is the money and appetite for sustainable digital transformation in UK healthcare remains in question."
The report is vital reading to anyone with an interest in this emerging market, be they an investor, an advisor, a large corporate supplier, a health tech start-up, or someone working within procurement or IT within the healthcare sector.
The report offers insight on how Covid-19 has taken digital health on its journey to maturity and asks if this will be sustainable. Even with the boost received during the pandemic, NHS IT investment remains insufficient. The average UK health organisation spends just 2% per annum on IT. This figure is closer to 8% in the US and most of Northern Europe. While there has been investment in video consultations and data gathering and analysis, not to mention the contact tracing app, there has been a downturn in spending on technology without immediate relevance to the pandemic during 2020.
The report contains the latest available data and expert insights on:
Patient Admission Systems (PAS)
Electronic Patient Records/Electronic Medical Records (EPR/EMR)
Specialist clinical systems
Digital apps
Wearables
Artificial intelligence
Interoperability across systems and sectors
Pathology and radiology
It also provides insight into the UK's largest purchaser of digital health, the NHS, how it works, how it is funded, its regulation and political considerations.
Published: 12th January 2021 (253pp)
Expert Insight
With any purchase of the report, there is the option to book a one-hour expert Q&A consultation with the author at the special price of £350 + VAT. Find out more.
Sponsored by
SPECIAL PRICE FOR NHS AND CHARITY PURCHASERS
Print: £499
Digital: £1,497
To purchase, please contact the sales team:
Call:  020 78339123
Email: [email protected]