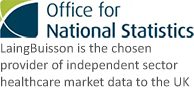 The twenty-sixth edition of our essential annual survey and directory of long term care services for older people and younger adults in need of specialist care. Twenty-sixth edition. (468pp). Published 7 August 2014.
With information derived from LaingBuisson's exclusive annual survey of providers of long term care services for older people and younger adults in need of specialist care services, this directory is the Yellow Pages of the long term care sector.
An essential tool for commissioners operating within local authorities or clinical commissioning groups, the directory is an invaluable resource tool when looking for the main contact details of all long term care groups (those providers with three or more facilities). It lists the names and addresses of all facilities for older people operated or managed by those provider groups and includes information on bed numbers and registration type.
With all information searchable via Adobe Acrobat's tools, LaingBuisson's Directories LONG TERM CARE PROVIDERS is a publication which means that data is never more than a click away when looking for the care available in your area whether you're looking to commission, to expand or to invest.
Downloads
By clicking on Buy Now you are acknowledging that you have read and understood the Data Licence Agreement and agree to the terms and conditions.
What You Get
Digital document in the form of a fully-searchable PDF (NB there is no printed copy with this product)

Directory Format

Long Term Care of Older People and People With Dementia
478 for-profit providers, which between them lease or manage 4,500 homes with over 222,600 beds
84 not-for-profit providers, which between them lease or manage 1,042 homes with over 45,700 beds
Long Term Care of Younger Adults
265 for-profit providers, which between them lease or manage 2,562 homes with over 28,500 beds
205 not-for-profit providers, which between them lease or manage 2,344 homes with over 21,750 beds
General Listing Include
Summary of providers of care for all providers by name
Table of the Top 20 providers by number of beds
Summary by category of provider of homes/beds owned and managed
Detailed Listings Include
Name, address, contact name, telephone & fax numbers, email & website addresses for corporate offices
Registered company number or charity number
Category of provider (e.g. UK publicly quoted company, private company, non-profit organisation)
Total homes/beds owned or leased and managed
Summaries of company histories, acquisitions and developments.
And for providers of care for older people only: name and address of homes owned or leased and managed, plus number of registered beds, classified as care home with nursing, or care home without nursing
Financial Data
With increasing attention being paid to the financial longevity of long term care providers – and the Department of Health and CQC encouraging commissioners to look at the financial stability of anyone with whom they work on care provision – LaingBuisson's directory is the only one stop shop where you can easily find the latest accounts of all care provider groups where revenue is in excess of £5m per year. This feature provides you with a comprehensive overview of financial performance over the past five years, something that could take considerable time to research through alternative means – making this an invaluable resource when making any commissioning decisions.
In this section LaingBuisson tabulates the latest available accounts of major care home groups providing services for older people, people with physical disabilities, people with learning disabilities and people with mental health care needs. Data is included on all operators with three of more facilities who produce annual revenue in excess of £5m per year.
Results for the most recent year, and the previous four years where available, are presented in an easy to read format covering:
Profit & Loss Account
Operating Revenue & Profit, EBITDAR, EBITDA, PBIT, PBT, Retained Profit/(Loss) by value and % of revenue; Balance Sheet
Fixed & Current Assets, Current & Long Term Liabilities, Equity & Reserves; Margins
Personnel Costs, Other Operating Costs, Operating Profit, PBIT, PBT; Ratios
Current Ratio, Interest Cover, Return on Shareholders Funds, Return on Capital Employed, Investment Ratio, Debt Equity Ratio, and Fixed Asset Ratio; and Employee Information
Numbers, Unit Cost, Unit Revenue.
Additional information on each company includes ownership category, share capital and issues, ownership/significant share holdings, loan details and depreciation policy.
This makes LaingBuisson's Directories LONG TERM CARE PROVIDERS the most comprehensive at-a-glance tool available when it comes to reviewing the financial performance and estimated future prospects of a provider – a concern set to become part of the Care Quality Commission's remit following announcements from the Department of Health.