Care Cost Benchmarks 12ed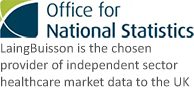 LaingBuisson's exclusive calculator tool for residential care provision. Twelfth edition. Published 05 October 2023.
The new edition of LaingBuisson's Care Cost Benchmarks provides vital guidance to providers and commissioners of care home services in understanding the real costs behind the provision of care. First developed almost 20 years ago, Care Cost Benchmarks has become the industry standard tool for calculating care costs. Fast forward to 2023 and it is more important than ever for sector decision-makers to be equipped with the tool as we approach the imminent implementation of Section 18(3) of the Care Act 2014 and the constantly-evolving Fair Cost of Care.
This year's study using the Care Cost Benchmarks tool has revealed a concerning financial disparity across many English councils. In conclusion, most local authorities pay less than care home costs, and although the exact amount varies from area to area, we found that in many areas the fee gap is over £150 per week. In Birmingham, for example, the 2023/24 fee shortfall is £177 per week for general nursing care to £208 per week for residential care of older people with dementia.
LaingBuisson's Care Cost Benchmarks toolkit provides valuable, data-driven insights to help successfully navigate difficult negotiations, optimise business operations and secure financial sustainability as the sector approaches this watershed moment.
The Care Cost Benchmarks tried-and-tested model uses the most recent data for 2023/24 and methodologies to provide financial clarity. Using the Department of Health and Social Care's Fair Cost of Care 2022 council reports, non-staff operating costs are then projected forward using relevant ONS price indices. For staffing costs, which constitute the largest portion of care home expenses, LaingBuisson utilises current and uniquely sourced data.
"Compelling local authorities to pay proper residential care fees [including increases in fees] has been a top priority for care providers. Local Authorities are legally obliged to pay the proper cost of a viable service. Failure to establish credible evidence of proper costs to provide services so as to remain viable has obstructed this necessary check on local authority misconduct. LaingBuisson's clear and comprehensive analysis of fair care costs will be a gamechanger. Unrivalled financial evidence to back strong legal action should make a huge change in law claims-particularly at this time of year when rates for 24/25 are being discussed."
Paul Ridout
Managing Director, Solicitor
0207 317 0340
Sponsored by

£1,345.00 (£1,614.00 incl VAT)
By clicking on Buy Now you are acknowledging that you have read and understood the Data Licence Agreement and agree to the terms and conditions.
What the toolkit delivers
A fully interactive spreadsheet which empowers users to see a breakdown of the cost of delivering care at a local authority, regional and national level for England and Wales
The cost of care for 2023/24 and the projected cost of care for 2024/25
Full cost of care breakdowns across four care modalities

Residential care for people aged over 65 years
Residential care for people aged over 65 years with dementia
Nursing care for people aged over 65 years
Nursing care for people aged over 65 years with dementia

The 'fee gap' between the average local authority paid fee and the median care home cost per resident (including return on capital and operations)
Detailed breakdown of care home costs including over 25 cost-line items, split into five sections

Staff
Care home premises
Supplies and services
Head offices costs
Return on capital

Transparent parameters that clearly set out the inputs and allow purchasers to adapt to reflect their own specific conditions
A detailed explanatory guide to the Care Cost Benchmarks
Plus
'Single click' selection of any administrative area including:
Country (England or Wales)
Region
Local authority with responsibility for adult social care provision
District council
Who is the toolkit for?
Council and CCG commissioners and finance staff
Care home groups
National and local care associations
Advocacy groups
Social policy experts
Politicians, civil servants and policymakers involved with long-term care funding
Legal teams working on care funding Judicial Reviews
Investors and developers
What You Get
Digital Package – Microsoft Excel calculator tool + Digital PDF Explanatory Guide