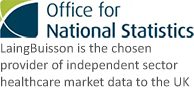 The third edition of LaingBuisson's data-rich report on the pay and terms of employment in independent sector care homes for older people. Third edition. Published 12 April 2016. (44pp)
"Providing top quality residential care comes at a cost – we all understand that. This begins with the cost of developing and maintaining properties suitable to deliver care for society's more vulnerable citizens and continues with the cost of employing, and retaining, the best available staff to deliver that care."
William Laing – Director and report author

This report is divided into two principal sections. The first covering care home managers' salaries and the second covering hourly paid staff.
It offers a comprehensive picture of payroll across the residential care home sector, and with between 53% and 62% of care home fees absorbed by staffing, it's clear that key to maintaining a stable, profitable and good quality operating business is setting the right basic pay rates, terms and conditions, and to reward care home management leadership.
The benchmarking data in this new report is therefore essential in informing and assisting the senior management of care home providers in making high-end salary decisions.
Downloads
Report brochure
By clicking on Buy Now you are acknowledging that you have read and understood the Data Licence Agreement and agree to the terms and conditions.
Latest Data + Authoritative Commentary & Analysis On
• Manager's basic salary by size of home, per bed and by sector
• Average salaries by home registration type
• Regional variations in gross hourly pay rates
• Paid holiday terms offered by for-profit organisations
What You Get
Hard copy printed report
Single-user digital back up PDF
Accompanying Microsoft Excel file
(NB: company-wide digital licenses are available upon request, call for details)
Report Format

Introduction
Executive summary & highlights
Scope
Data sources
Care home Managers
Basic salaries by size of home (national)
Basic salaries by sector (national)
Basic salaries by registration type (national)
Regional variation in basic salaries
Manager salary inflation 2004/05-2015/16
Other elements of remuneration package
Hourly Paid Staff
National pay rate summary
National hourly pay inflation trends 2006-2016
Regional variations in hourly pay rates
Holiday, sickness and pension on-costs
Appendix
Verbatim Comments On Employment Benefits