Diagnostics UK Market Report 2ed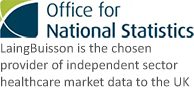 What the report covers
Market
Politics and regulation
Payors
Providers
Key suppliers to the market
Investors
Market potential
Appendices
Glossary
Who is the report for?
Hospital & Clinic C-Suite Professionals
Specialist Diagnostics Providers
Suppliers of Imaging and Pathology Equipment
Private Medical Insurance Groups
Clinical Commissioning Groups
NHS Foundation Trusts
Professional and Trade Associations
Investors
Banks
Private Equity
Central and Local Government
Think Tanks
Lawyers
Management Consultants
What You Get
Print package – Single-user Printed Hard Copy
Digital package – Multi-user Digital PDF and Microsoft Excel files + Printed Hard Copy
Want to know more? Our sales team can help.
Call: 020 7841 0045
Email: [email protected]
Will government funding materialise to meet the high demand of diagnostics?
LaingBuisson's comprehensive study of the UK's Diagnostics market, second edition. This report covers imaging and pathology (defined here as all clinical lab services including cellular pathology), which  are very different disciplines but are both key to diagnostics.
Written after the peak of the Coronavirus pandemic, the report offers a comprehensive view of a high value, growing market that has returned to a normal steady state. Whilst diagnostics was impacted less heavily than other markets, the market awaits the results of proposed government funding.
Amongst the varying data collated in the latest report is expert commentary, which poses pertinent questions. Why, for example, is the NHS's purchasing power not more co-ordinated? Historically, each NHS trust has managed its own imaging and pathology services. Efforts for consolidation began in 2017 but progress towards this has been slow.
The report also offers international comparison, as we highlight that the UK has around half the level of radiologists per capita than the US, Germany and France, with little sign that this will be reversed in the next decade, given the time taken to train these professionals. The UK also has very high utilisation of MRI and CT scanners, which on average are older and nearer to the end of their useful lives.
In order to match the high demand of the sector, the Government investment in the NHS diagnostic infrastructure must be accompanied by investment in training. This will help address the shortage of professionals working in fields such as radiology and histopathology.
Comments from the Report Author
"Post-Covid burnout may have affected diagnostics less than some other medical specialties, as labs and imaging saw reduced volumes during Covid. Locum agencies and backlog providers in both imaging and pathology have seen sharp increases in demand to support the increase in elective activity since the height of the pandemic.
"Overall, volumes are likely to continue to grow steadily once normality returns, but with continued downward pressure on pricing. The volume growth is variable with continued high single digit volume growth for MRI and CT scans, and higher growth for PET CT. Genetic testing within pathology will show very high growth, with other sub-specialties showing steady but lower single digit volume growth. The downward pressure on pricing is variable across segments, but likely to be greatest in imaging.
"Beyond this three-year horizon, the underlying level of demand is likely to continue to grow with demographic changes. The level of outsourcing by the NHS remains a big uncertainty which could drive further opportunities, although the pendulum has swung against outsourcing in recent years."
                                                                                                                                                Hugh Risebrow, report author
Published 20th January 2023 (303 pages).