Digital Health UK Market Report 3ed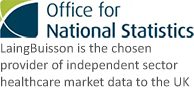 What the report covers
Market
Politics and regulation
Payors
Major providers
Investors
Market potential
Who the report is for
CEOs and Boards of NHS Trusts and independent healthcare providers
CIOs/CTOs of NHS Trusts and independent healthcare providers
Procurement leads in NHS Trusts
Regulators
Large IT suppliers
Healthcare IT start-ups
Banks and investors
Management consultants
Business advisors
Central government
Think tanks
Policy writers
What You Get
Print package – Single-user Printed Hard Copy
Digital package – Multi-user Digital PDF and Microsoft Excel files + Printed Hard Copy
Want to know more? Our sales team can help.
Call: 020 7841 0045
Email: [email protected]
Can the NHS harness the momentum of increased Digital Health Spending?
LaingBuisson has published the third edition of its Digital Health UK Market Report. Containing new and rebased data, the report provides the most accurate picture of the market available and gives full consideration to the impact that the pandemic has had on the adoption (or not) of different technologies, cutting through the myth to shine a light on the reality.
"While the Covid-19 pandemic certainly increased awareness of digital health technologies and in many instances significantly sped up adoption, for a number of reasons discussed in this report, usage remains nowhere near universal. While this situation might be poor for the patient or the clinician, it does create opportunities for both suppliers and investors… 
"One of the issues that makes efforts so hard to achieve is that each area of the country, each city or county, each local health community, each Trust or primary care network, has different pre-existing digital landscapes and plans. Different suppliers, different technologies, different processes, and differing ways of working naturally create a very complex environment"
The report is vital reading to anyone with an interest in this emerging market, be they an investor, an advisor, a large corporate supplier, a health tech start-up, or someone working within procurement or IT within the healthcare sector.
The report offers insight into the current state of the UK healthcare sector's digital transformation, and the potential benefits of scaling and penetrating existing proven technologies across the whole NHS. Whilst Digital Health Spending as a percentage of the overall healthcare budget has increased since 2020, we argue; is it enough to encourage a full-scale adoption of digital technology and construct a solid foundation for the NHS to build upon?
The report contains the latest available data and expert insights on:
Patient Admission Systems (PAS)
Electronic Patient Records/Electronic Medical Records (EPR/EMR)
Specialist clinical systems
Digital apps
Wearables
Artificial intelligence
Interoperability across systems and sectors
Pathology and radiology
It also provides insight into the UK's largest purchaser of digital health, the NHS, how it works, how it is funded, its regulation and political considerations.
Published: 2nd November 2022 (167pp)
Expert Insight
With any purchase of the report, there is the option to book a one-hour expert Q&A consultation with the author at the special price of £350 + VAT. Find out more.