Private Healthcare: Self-Pay UK Market Report 3ed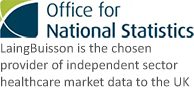 What the report covers
Market
Market research and analysis
Market insight from leading providers
Price comparisons
Major provider scheme and finance options
The patient perspective
The future of self-pay
Appendices
Glossary
Regulators
Trade Associations
Major independent sector healthcare providers
Private providers details pricing and comparisons
Who is the report for
Hospital & Clinic C-suite Professionals
Specialist Acute Medical Care Providers
Private Medical Insurance Groups
Clinical Commissioning Groups
NHS Foundation Trusts/ Private Patient Units
Investors
Banks
Private Equity
Central and Local Government
Think Tanks
Lawyers
Management Consultants
Want to know more? Our sales team can help.
Call: 020 7841 0045
Email: [email protected]
LaingBuisson's comprehensive report into the UK's private self-pay market. 3rd edition. Published 12 April 2021. (332pp)
Can Self-Pay healthcare buck the economic trend in the post-pandemic world?
"Self-pay continues to show  real and evidenced growth. While there are indications of an increased interest in private medical insurance, both from companies and individuals, in the wake of the pandemic, growth from insured patients is expected to remain static or slow for the foreseeable future. Conversely, confidence in self-pay is high, with 52% of those surveyed expecting that this market will grow by 10-15% over the next three years (up from 45% in 2019) and no-one thinking the market will decrease. 
"We will of course have to wait to see how the market normalises after the pandemic and its related restrictions lift. While the NHS has faced challenges in restarting elective treatment, self-pay is looking attractive even if currently wait times are longer than usual and we may anticipate that even once the NHS fully resumes elective treatment, the private healthcare wait times will also reduce. The question is whether many people, having discovered that paying directly for medical care is an option, continue to call on it, whether for a virtual private GP appointment or for more complex surgery."
The third edition of LaingBuisson's respected Private Healthcare Self-Pay UK Market Report is essential reading for anyone with an interest in private outpatient and inpatient healthcare. This includes service providers, suppliers, advisors, investors and insurers operating in this growing market.
Self-pay continues to demonstrate real and evidenced growth. Confidence is high, with 52% of those surveyed expecting this market will grow by 10-15% in the next three years and no-one thinking the market will contract.
The report reveals a market which is doing well despite the economic uncertainty created by Covid-19 and Brexit. With NHS elective surgery severely restricted and few opportunities to spend on discretionary items such as holidays and leisure, people are discovering that paying for treatment is affordable and accessible.
Although demand is currently hard to satisfy given the continued support being given to the NHS by independent hospitals, there is a rising interest in areas such as orthopaedics, ophthalmology, gastroenterology, gynaecology and urology. The challenge will be converting this interest to business. Equally, digital services, such as online GP services, and competitively priced specialist clinics (including vein clinics, imaging clinics, ophthalmology providers and day surgery only clinics) are making private care more accessible to people who may never have considered it before. Financing options are growing in popularity and are enabling patients to spread the cost of treatment.
Will discovering access to private healthcare is so straightforward mean that first-time patients become repeat customers?
Supported by
Expert Insight
With any purchase of the report, there is the option to book a one-hour expert Q&A consultation with the author at the special price of £350 + VAT. Find out more.