Healthcare Markets international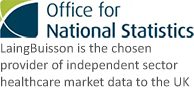 10 digital issues per year plus full access to the online news archive.
Healthcare Markets international is the only publication to look at the industry globally and captures the cross-border dynamics. We interview the leading CEOs and influencers, report on the deals, publish the best thought-leadership and combine it with market data and in-depth analysis. We focus on hard facts.
Subscription includes
10 digital editions of Healthcare Markets international
Full access to the online news archive